Whistler Blackcomb | British Columbia, Canada
Ski by day. Après by night. But when we say "night" we really mean – after you've finished skiing for the day (slopes close around 3.30pm). Because, while Whistler Blackcomb is legendary for its mountains, Peak 2 Peak gondola, trails and slopes, it's also a legend when it comes to fun off the slopes. And this comes in many different forms.
Whistler has so many après ski options – whether you're a bit crafty (think craft beer), feel the need to go urban, rustic or high-end after a day on the slopes. Maybe you want to kick up your boots and dance on the bar-top or it's about enjoying quality time with your family. Whatever your style, you can après any way you like at Whistler Blackcomb on your ski holiday.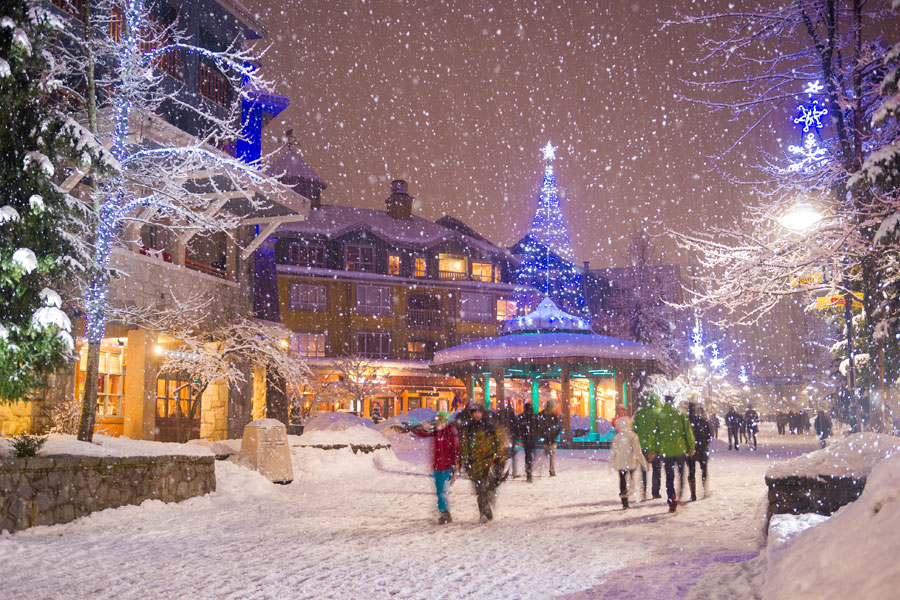 So, just what is Après Ski
We can thank the French for this word and simply put, après means "after". But seriously – "after-ski" doesn't have the same ring to it. So après has stuck! Historically, the après ski tradition comes from the practice of ending a long, cold day with cider or mulled wine, relaxing with friends before heading home for household responsibilities. Whistler keeps up the tradition but has wisely sidestepped the "household responsibilities" for visitors to take it to a whole new level. This ski destination offers the ultimate in après ski experiences – on its doorstop when the slopes close for the day.
What makes Whistler the best for après ski?
Après ski is part of the culture in Whistler Blackcomb. So to assist with this attitude the ski resort features a pedestrian only village. This set up means the après options are are in "ski boot" walking distance – which, in some cases, are kept on well after their skiing is done for for the day. While Whistler Blackcomb ski slopes are the main reason for coming, visitors get a one-stop action-packed ski holiday experience. Whistler Blackcomb really is the total ski holiday package. Now read on because, we've compiled a selection of après-ski activities and venues you'll not want to miss while on holiday in this Canadian ski resort:
Party Après

Whistler's restaurant and bar après ski scene is action packed – catering to one and all!

Merlin's Bar & Grill
Located at the base of Blackcomb Mountain in Whistler's Upper Village, Merlin's après sessions are described as "off-the-hook". Good times, mountain-high nachos, bar top dancing and the shotski! This place also features an upstairs mezzanine just for families, with a smaller bar and additional seating overlooking the action downstairs.

Merlin's in Whistler Blackcomb Canada | © Tourism Whistler / Mike Crane


Garibaldi Lift co. Bar & grill
Located above the gondola building, the Garibaldi Lift Company (AKA the GLC) is world-renowned as "the" place to après. It overlooks skiers as they shred down the slopes. Plus it's family friendly until 10pm.

The Bearfoot Bistro: Catering to more high-end après featuring an onsite ice room if that's your style.

Bearfoot Bistro Ice Bar | © Tourism Whistler / Mike Crane

HandleBar: A place for great food and craft beer!

Coast Mountain Brewing Co: Enjoy craft beers that you will only find in Whistler. This brewing company offers a variety of brews including special seasonal options. Ease into the après in their comfortable and relaxing tasting room.

Buffalo Bills: Featuring a huge dancefloor, classic pub food and top 40 tunes. No trip to Whistler is complete until you've been to Buffalo Bills.

Après Foodie Tours

Whistler has plenty of options when it comes to tasting and après ski mountain dining tours: Take your pick…

Tasting Tours
Foodie's Delight: This Whistler tasting tour takes you on a guided walking tour to some of Whistler's favourite restaurants. Enjoy a different course at a different venue.
Whistler Craft Crawls: A tour of four Whistler locales, where you get to sample tasty brews and meet some other like-minded beer lovers.

Après Ski Mountain Dinner Tours
Nightrider Snowmobile Tour: Venture high into the mountains under moonlight and explore the famous Fitzsimmons Creek Valley.
Blackcomb Mountain Snowmobile Tour: Take a ride up Blackcomb Mountain and enjoy a mug of hot chocolate in an igloo, with the glittering lights of the Village twinkling below you.
Mountain Top Fondue Dinner: A unique experience to Crystal Hut perched atop Blackcomb Mountain at 6000ft. Here you'll be treated to a traditional fondue dinner and live entertainment from local musicians.

Fondue dinner in Crystal Hut | © Tourism Whistler / Mike Crane

Après with a VIEW

Umbrella Bar & Deck
New in the 2018/19 season. This daytime après ski venue – The Roundhouse Lodge – is located 6,069 feet up Whistler Mountain. Perfect for ski refreshments and to enjoy stunning views before shredding more snowy laps.

The Umbrella Bar | © Tourism Whistler/Justa Jeskova




Showstopping Après

Fire & Ice
Fireworks, fire spinners and Whistler's best skiers and riders all on show on Sunday nights at Skiers Plaza. Watch as experts hit a big air and jump through a blazing ring of fire alongside an electric mix of music. You can also watch this show at the Garibaldi Lift co. Bar & Grill and be in the best spot for its After Party – but the Whistler insider tip here is to… book a table first.

Après Fun & Games

Forged Axe Throwing
The dart board has been supersized in this uniquely Canadian activity. As the name suggests, it involves wielding a few sharp things so it's definitely an adult-supervised option for kids ages 10 plus.

Shiver me Timbers!
There's a pirate ship at the base of Whistler Mountain? Of course there is! This special place is a puzzle escape room – the kind where you have to solve clues to escape. A great family adventure… or anyone's adventure with more advanced rooms on offer.


Luxury Après

Ice Cave Dining
That's right dinner in an ice cave. Bucket list jackpot! Limo ride, helicopter flight and a three-course private dining experience with incredible food. Surrounded by blue ice towers, seats lined with furs and fleece – this is a once in a lifetime experience and cheaper than a trip to space!

Relaxing Après

One of the best ways to unwind after a day on the slopes. Stretch your legs with a yoga class or relax with various options available featuring indoor and outdoor hot pools, hydrotherapy, saunas, relaxation rooms and massage treatments.

Relaxing with Spa © Scandinavian Spa Whistler / & Mike Crane

Après with the family

Whistler is definitely a family friendly ski resort and provides special après ski activities.

Whistler Olympic Plaza: The go-to place at Whistler for families. This family fun zone is home to variety of outdoor, winter activities and entertainment (on selected nights). Activities vary but can include meeting Whistler's sled dogs, sliding on the snow, warming up at the firepit, ice skating, arts 'n craft, trying maple syrup taffy and story time. Developed as the home for Whistler's medal ceremonies, Whistler Olympic Plaza has since become HQ for winter fun in Whistler Village.

Whistler's insider tip: "After skating, make sure to stop by the adjacent Olympic Rings for a photo. There is a rock podium there at perfect photo height, so you can put your camera's timer on and get everyone in the shot.

Teen Time: Plenty to keep them busy after a day on the slopes with teen only ski and snowboard groups plus young adult movie nights and more.
Market: "Made in Whistler" Artisan Market is on Saturdays at The Westin from 12-6pm.

Valley

Après

A Night at the Callaghan Valley
When Whistler Blackcomb closes its slopes for the day, you can still get outdoors and get active at night with activities at the Callaghan Valley. On offer is snowshoeing, fat tyre biking, base boarding, and both Nordic and cross-country skiing. Amazing evening snow adventures.

Blockbuster your

Après

Village 8 Cinema
Located right in the village. So, after a full day on the slopes, and maybe after you've enjoyed dinner at one of the restaurants, sit back, relax and enjoy the entertainment on the big screen!
To book a beyond ordinary ski/board experience to Whistler British Columbia, Canada including flights, transfers, accommodation, lift passes and activities call the Active Travel Experts at travel&co NZ Toll-Free: 0800 555 035 or click here for our latest offers.
Banner image: Tourism Whistler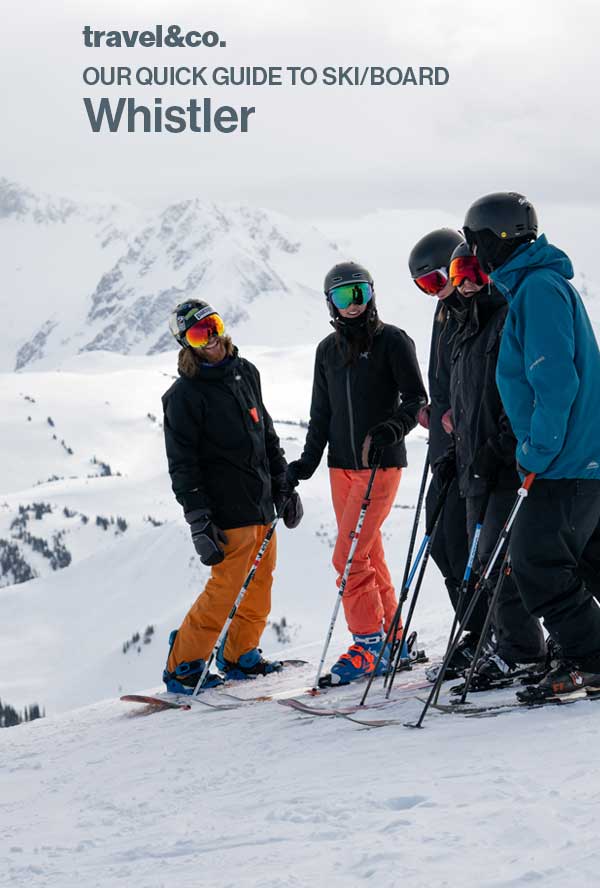 Download our Quick Guide to visit Whistler
Take a look at what Whistler has to offer. Located in British Columbia, Canada, Whistler is ranked as one of the best ski resorts in the world. Enter your details below to download your copy now.
Leave a reply