Read all about Debbie's recent experience to Tonga and swimming with the Whales!
---
Slipping into the water for the first time, I'm not sure whether it was awe, shock or the beauty of the whale that made my mouth drop open and my snorkel mouthpiece fall out. Gliding past no more than 5 metres away, was a humpback whale the size of a bus and within a blink of an eye it flicked its tail and swam off into the blue.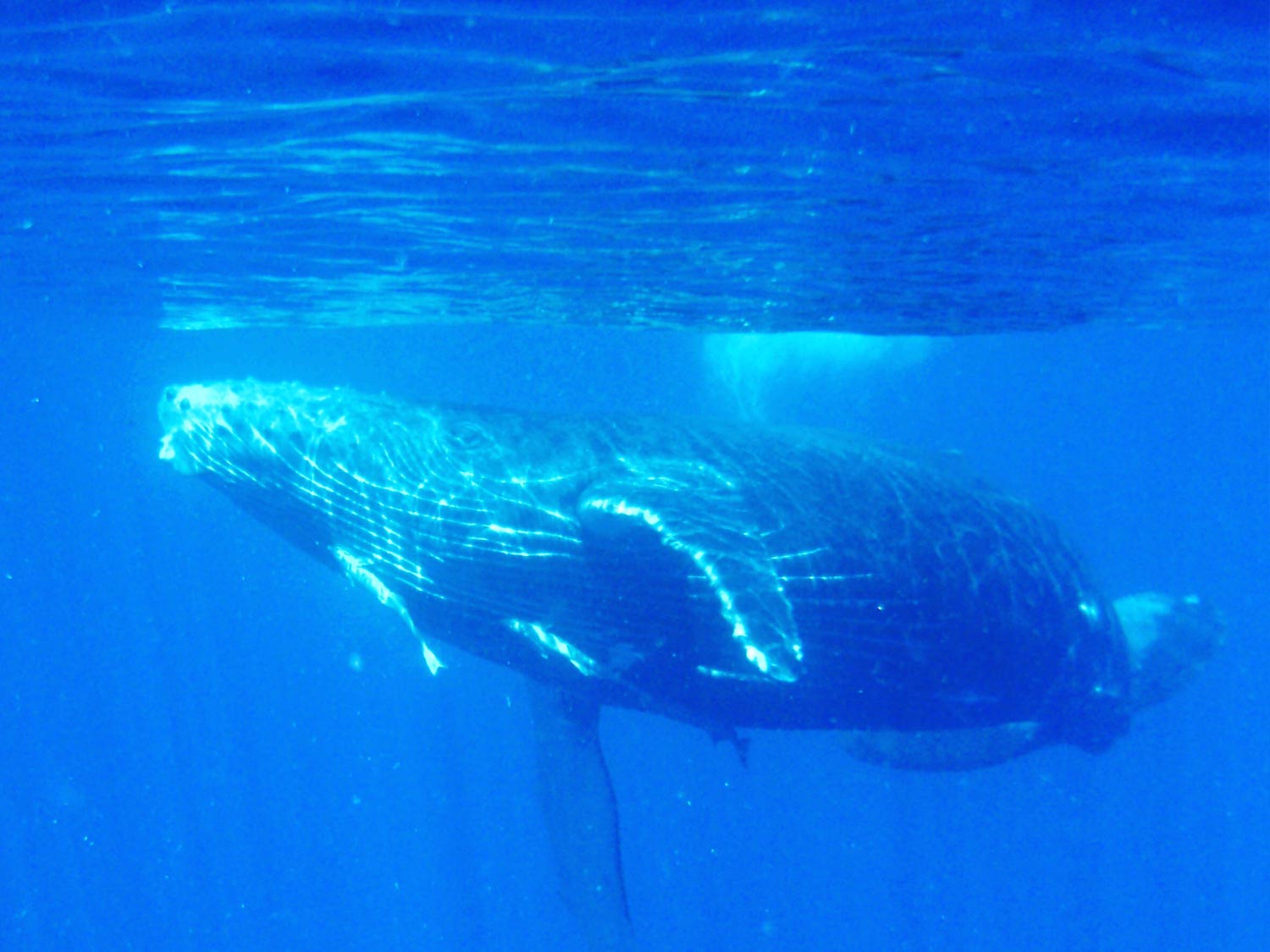 Swimming with Whales
Nothing really prepares you for the first time you're in the water with a humpback whale. Their enormous size is breath taking and the way they twist and turn through the water is so graceful. Looking into their eye you feel a special connection and wonder whether you are watching them or whether they are the ones in fact watching us.
After our initial encounter, we came across a female with her calf quietly resting near the ocean floor. The beauty of Tonga is that you can be an hour out from shore and still see the ocean floor in parts because of the shallow crystal-clear waters. This time after slipping quietly back into the water, we approached her and watched how she gently lifted her calf to the surface for air and let it play around her, as if putting on a show for its new friends floating nearby. Out of the corner of our eyes a male approached, turned upside down and began rubbing its back on the sand, like a dog scratching it's back. He was the perfect decoy and while we were all captivated by him, the mum and calf slowly slipped out of sight.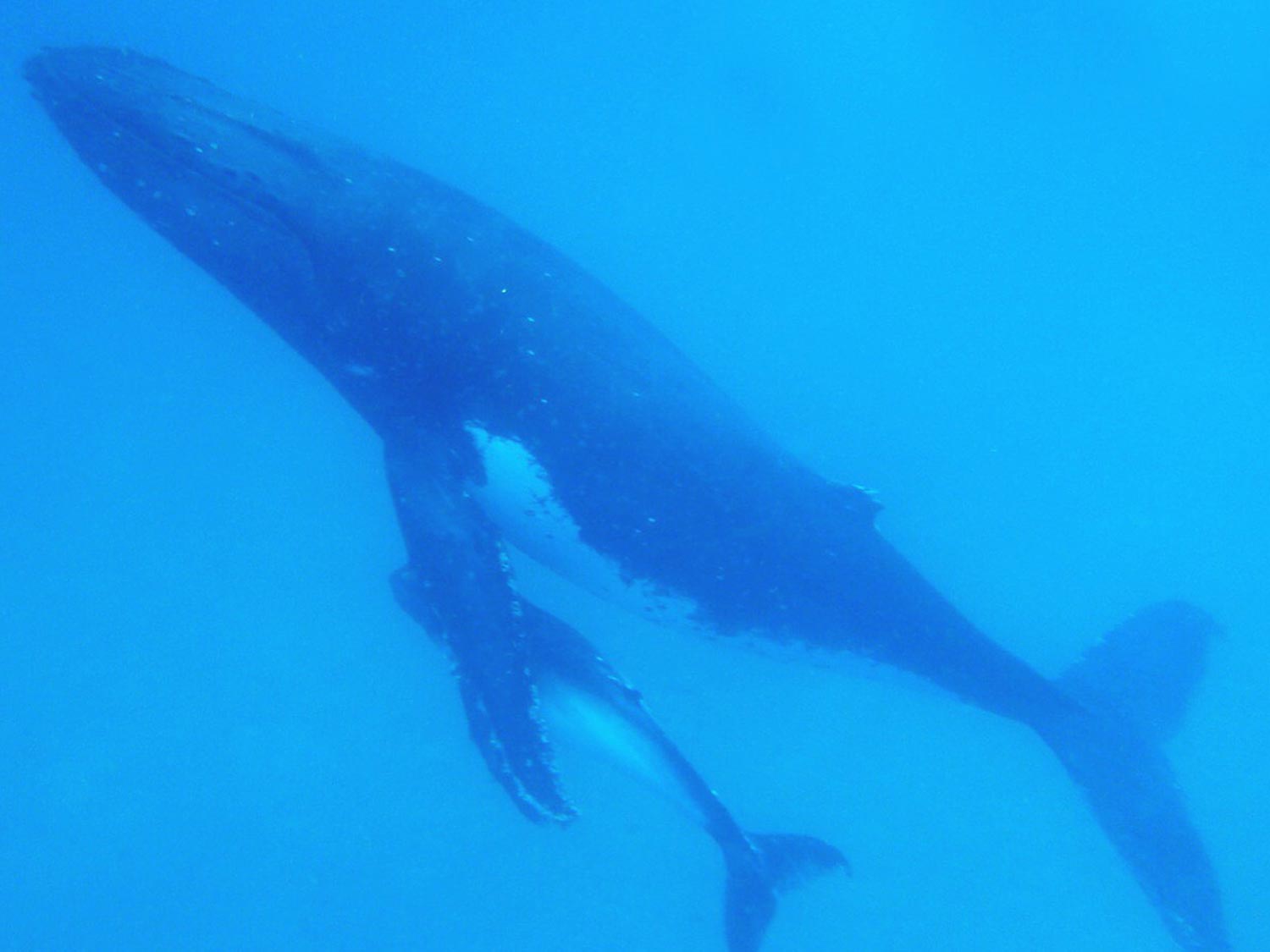 We had so many special moments during our days out on the water. We enjoyed watching a baby who was learning how to breach and was trying its best to impress mum (and us watching from the boat). There was the young male singing for a female whose song we could hear from our boat. Getting back into the water, we followed his song until we came upon his silhouette beneath us. We stopped and listened to possibly the most beautiful song in the world with the vibrations rippling through us. With a slow single flick of his tail this enormous whale lifted from the bottom and floated to the surface in front of us for a breath before proceeding to serenade us again, one of those moments that you will never forget.
There are playful calves that behave like children who have had too much sugar, circling their mums, nudging them and trying to impress anyone who is watching, much to our delight. Sometimes mum will nudge the calves closer towards you as if to say, "go on, check out those strange fish who can't swim very well". The juvenile males can be very inquisitive, often coming to check out your boat or these funny looking things in the water (us).
It's an experience that everyone should do at least once in their lifetime. To be in the presence of any wild animal in their own environment is truly special and, on this occasion, I found it incredibly moving – one of those life changing moments. It's one thing to lose your mouthpiece underwater, but it's another to be moved to tears by their beauty and grace.
The humpback's grace the turquoise waters of Tonga from July through to October. We visited in August and saw whales every day, all day, from the boat and from the shore. Stay for a minimum of a week and book at least 2 days out with the whales, more if you can as each day is so different and no two encounters are ever the same. Snorkels, masks, fins and wetsuits are all provided as well as a light lunch and refreshments the days you're out on the boats. The boats are small with a maximum of 8 guests and only 4 in the water with the whales at any one time (excluding your guide). The guides are very knowledgeable and can answer your questions, explain the body language of the whales and make sure that you keep the respectful distance of 5 metres from the whale. Even for those that aren't confident snorkellers or for children, this experience is one anyone can do, your guide even has a life guard style floatie should you need a rest or a tow!
Other things to to
There is lots to do on the days you're not out with the whales, especially if you're like me and can't lie on the beach for more than half an hour. Learn to kitesurf and paddleboard lessons are available, including a night paddle where waterproof torches light up the water beneath your board showing off the coral and sea life. The snorkelling around the lagoon is safe and full of life and other activities such as horse riding and cultural visits can easily be arranged along with fishing and diving trips. If you don't already have a waterproof camera, I highly recommend you invest in something better than the cheap disposable kind because no one is going to believe what you did until they see your photos!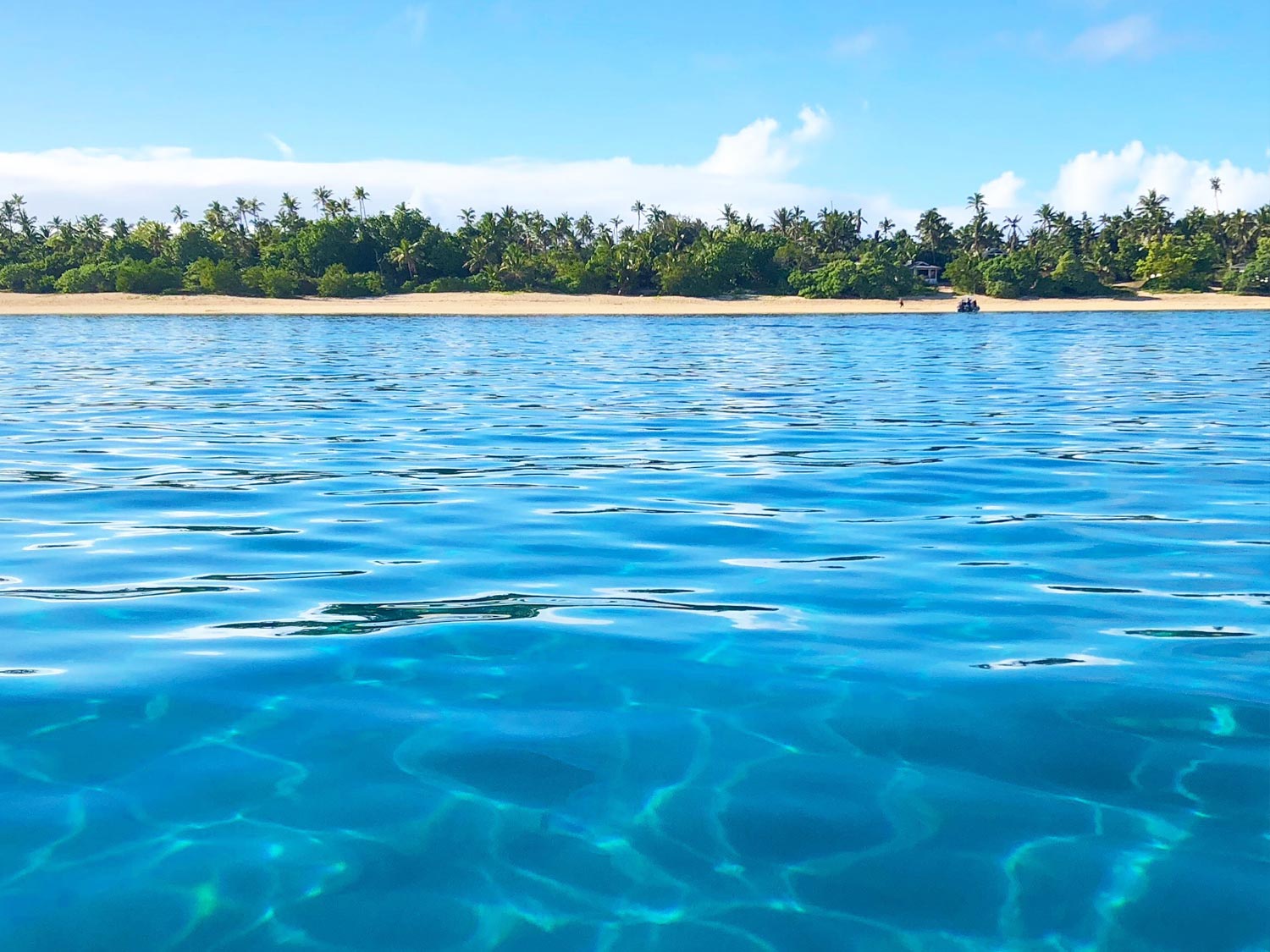 Getting There
Tonga is a short 3hr flight from Auckland, just enough time to catch up on a movie. Fua'amotu International Airport will welcome you to Tongatapu and is 20km from the capital Nuku'alofa. Getting to Haapai is an easy 40min flight from the domestic airport, and a short 5min drive away from the international terminal.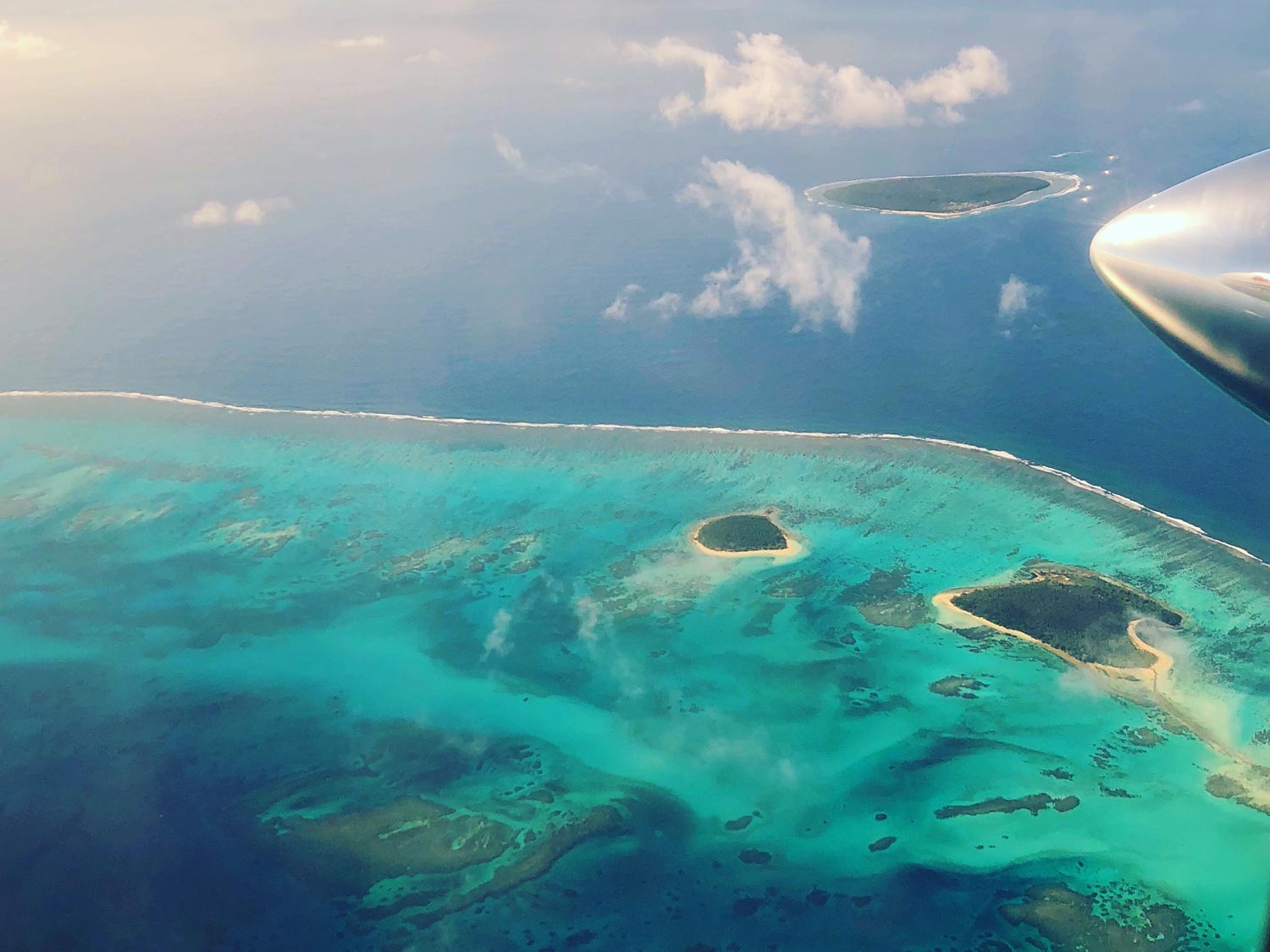 Where to Stay?
Stay at either Matafounoa Lodge or their sister property Sandy Beach, both are well equipped with everything you need for a relaxing island getaway with some unforgettable days out with the whales. Because of their popularity, both properties can book out 18-24 months in advance so be sure to get in early! Depending on the experience you're after, you can choose Matafounoa which is fale style accommodation with shared facilities including beautiful rainforest showers and a dining area right on the beach. Meanwhile Sandy Beach offers all your home comforts within your free-standing room including incredible sunsets. The fun and friendly staff at both properties will go out of their way to ensure you have the best time and take care of any special requests that you or anyone in your group may have. They will know your name after your first day and will make sure stay a truly memorable one.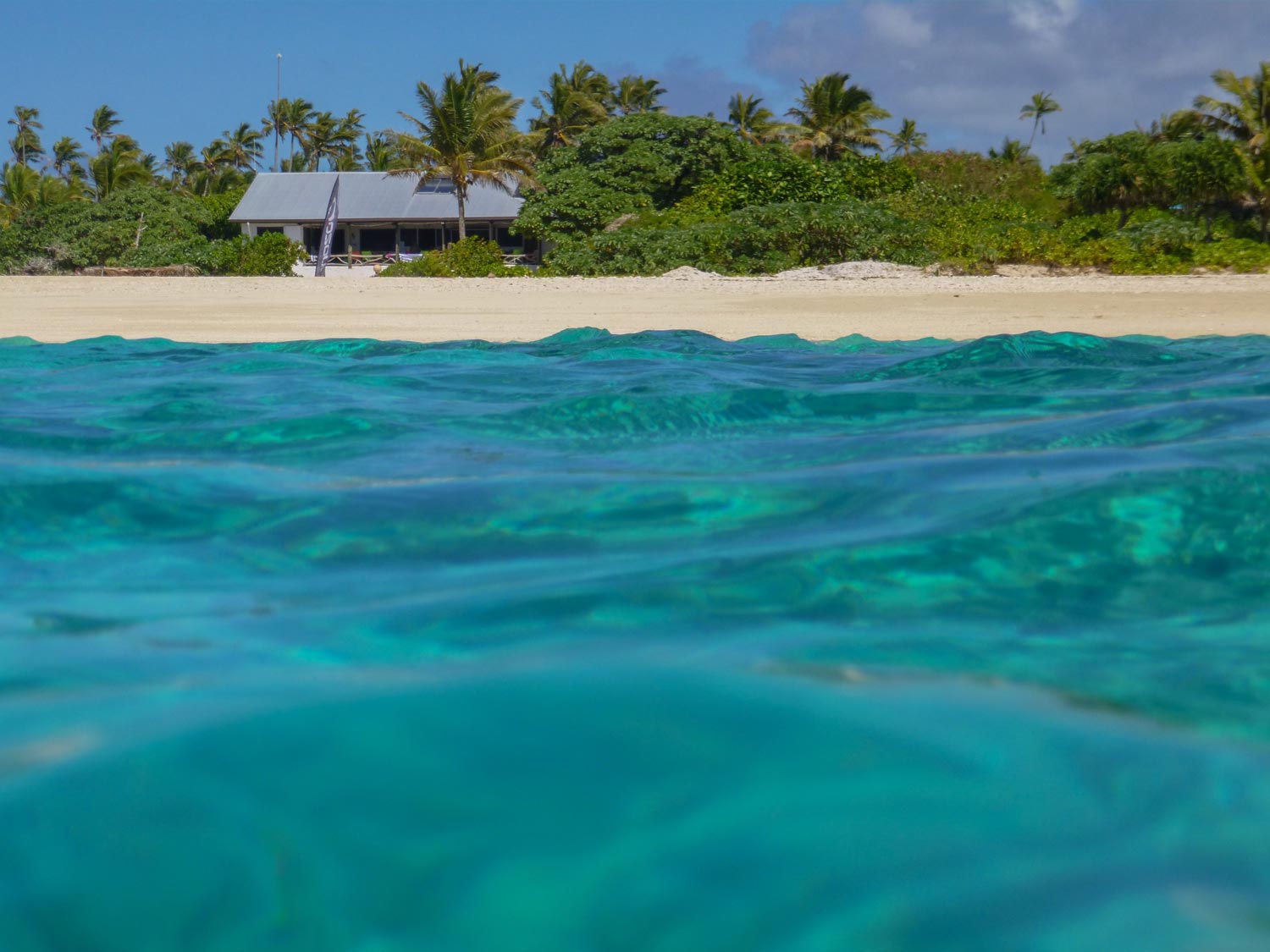 To book a beyond ordinary Swim with the Whales experience to Tonga including flights, transfers, accommodation and activities call the Active Travel Experts at travel&co NZ Toll-Free: 0800 555 035 or click here for our latest offers
Promotional Feature: Images and content provided and written by Debbie Howard | travel&co client
Instagram: debbiekhoward
Leave a reply