No doubt we go to Canada for the incredible skiing but the food is also incredible and adds so much to a trip. I have been lucky to have had my fair share of food in Canada and here are all the must do places to add the perfect extra to your holiday!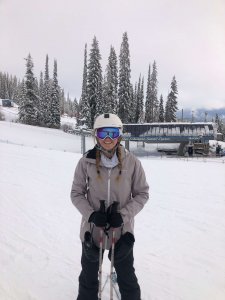 Memphis Blues Barbeque House – Robson Street, Vancouver
Wandering around our first day in Vancouver and we walked past the Barbeque House. A skinny little restaurant and bar area with every table full. We went in, and were told we could do takeaway, which we happily decided on.
Our order:
Beef Brisket Meal (with cornbread, fries and coleslaw)

Pulled Pork Meal (same as above)

Pulled Pork Poutine
It was incredible. The Beef Brisket was a real highlight, incredibly tender. The pricing was pretty reasonable especially considering the portion sizes. It was such an easy, quick meal that we could takeaway. We had a drink at the bar whilst waiting for our meals, and the service was great. Lots of international staff working there who loved to chat.
We loved it so much, after a huge day of shopping in Vancouver on our second day, we decided to go back and get more takeaways.
Our order:
1 Pound Ribs

1 Pound Pulled Pork

Fries
Once again, we were blown away. Definitely recommended for lunch and dinner, you have got to try it.
Al Porto Ristorante – Water Street, Vancouver
This was a cute little restaurant off the main street of Gastown, by the waterfront. We went in here expecting a quick meal before the ice hockey game and we were surprised at the incredible, authentic feel of the restaurant. The service was incredible and the food was divine.
Our order: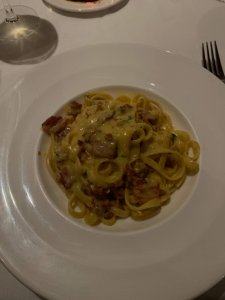 Osso Buco

Fettuccine Carbonara

Salsiccia Pizza
Al Porto also offers a really good early dinner special which ru
ns from 4:30-6:30pm daily. This includes $45 for a pasta or pizza and dessert course with a soup or salad. Or for $55 get a three course meal with dessert and soup or salad. To top it off, a great gluten free range.
Hope Mountain Cafe – Wallace Street, Hope
Do not even get me started on the crispy chicken sandwich. Driving from Vancouver to the mountain was all made worth it by that chicken sandwich. The sauce, perfectly crispy chicken, soft bun. The best ever chicken sandwich hands down. More than this, the cafe has the best espresso coffee. We stopped both ways to and from Vancouver and it was incredible.
Our order
Double espresso

Crispy Chicken Sandwich

Bacon Chicken Melt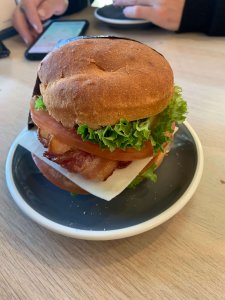 No doubt this is a must do stop for your road trip. Try any one of their sandwiches and of course the coffee for a taste of home!
Bugaboos Cafe – Silverstar Mountain
On the mountain, Bugaboos is such a staple. Bugaboos is always busy, always warm and always has incredible food. Hot chocolate, coffees, pastries and even meat pies are all freshly made daily. The cinnamon rolls are a North American staple and an essential to a bluebird ski day.
Our order:
Hot Chocolate

Coffee

Sausage Rolls

Cinnamon Rolls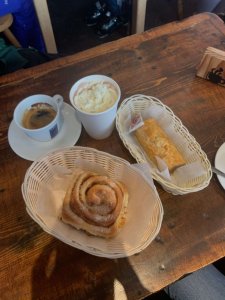 Perfect for breakfast or a mid morning snack, Bugaboos is awesome. The only thing to consider is that it is often very busy and finding a table can be difficult, but wait around for long enough and they come up quickly.
Black Pine Social – Silverstar Mountain
The best ramen on the mountain. Asian inspired cuisine in a relaxed atmosphere. The food was cooked exceptionally and again more of a different menu to other places on the mountain which are more traditionally pub style. It is also known as a hotspot for staff and locals who always have a story to share!
Our order:
Katsu Chicken Sandwich x2

Cab Striploin
The portion sizes were incredible, perfect after a hard day on the mountain. The service was quick despite them being short staffed. 100% must do.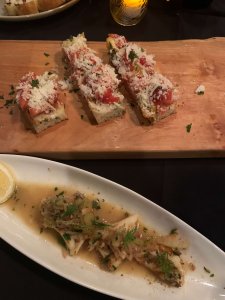 D'argento – Silverstar Mountain
If you are looking for something a little more upmarket, intimate place for dinner D'argento is the place to be. The food was of the highest quality, beautifully fresh, just something different to what you may be used to. The service was incredible and the staff were extremely knowledgeable of the meals and wines.
Our order:
Calamari

Heirloom Tomato Bruschetta

Insalata Tuscan Caesar Salad

63 Acres Grilled Beef Tenderloin

Risotto Del Giorno

Vegan Spaghetti
The chef accommodated both vegan and gluten free food for our group. I would definitely recommend booking prior as the small venue means there are not many tables. This was on the pricey side of restaurants but it was great as a special last dinner.
Overall, while you go for the skiing and winter activities, there is plenty of excitement to be had around the food. It adds the perfect touch to an incredible holiday and puts everyone in a good mood!
Leave a reply