Meet Chris Gray and Mason, a Copper Mountain ski patroller and avalanche-certified Golden Retriever, whose day to day lives are entwined as they do a very important job – saving lives.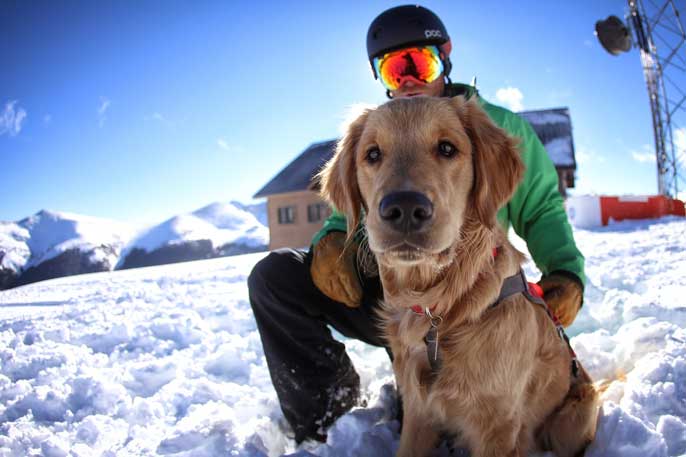 At the age of 10, Gray saw what dogs were capable of learning to do in the snow and he wanted to teach a dog himself, but couldn't train one at that age.
Fast forward to 2014 and Gray is ski patrolling and became a second handler for an already trained and certified dog, Cascade. During that season, Gray started training his own dog Mason.
Now Gray has been working with Mason for two years and he takes us into his world of practice drills, avalanche rescues and Mason's absolute loyalty, demonstrated body alerts and his love for digging, which could rescue someone buried in an avalanche.
What got you into training Mason?
Cascade was about seven years old when I worked with him, and he taught me how to notice the subtle alerts and body language that a dog displays when they are working. Also, I learned how to safely transport a dog: on a chairlift, snowmobile, helicopter, in a snow cat, and of course with me on skis. It got me prepared to get my own puppy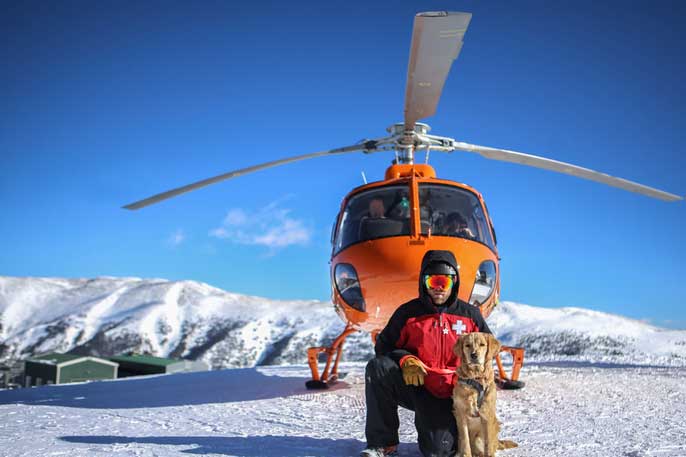 Is Mason certified yet?
Mason has been certified for almost two years now. He got certified with C-RAD (Colorado Rapid Avalanche Deployment) – the agency that validates dog and handler teams. We, as an avalanche team, dog and handler, must be able to clear an area 100 yards square, with anywhere from one to three live burials, within 20 minutes. We go to a ski area that is not ours, and perform our work under the watchful eyes of at least two other validated handlers.
What makes Mason a great C-RAD dog?
Mason is a great size for avalanche search and rescue work- not too big and not too small – he weighs about 58 pounds, which is light enough for me to be able to carry him out of the backcountry. But he's not too small that he can't run around and jump through deep snow. He has a very obvious dig alert, meaning he can quickly detect the scent of someone buried in the snow. We are working on a bark alert, where he will bark like crazy and dig in the snow with his paws at the scent location. His loyalty to the scent location means he won't leave until I have arrived to dig up what he finds, and he has been told to keep searching, meaning find another scent.
Since Mason is a Golden Retriever, he tends to stay warmer when out in the cold due to his longer fur, but because of that, he gets snowballs that form on his feet (which annoy him) so he has to stop and chew them off every once in a while. To help prevent this, I try to keep the hair between his toes a little shorter.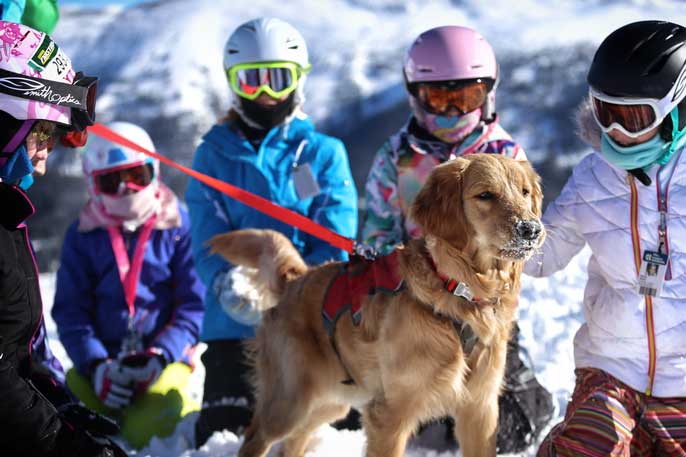 Does anyone besides you and Mason go to these missions?
When we are deployed on a mission, we go as a team of three: dog, handler, and an avalanche technician. This avalanche technician is extremely knowledgeable in all aspects of avalanche rescue: beacon searches, RECCO detection, safety while on scene, and extrication of all personnel involved.
"Mason's always so excited to go "work," or anytime we are training, doing drills, practicing obedience, meeting our fans, or doing a full search and rescue scenario. I think of him almost like a person- I find myself talking to him, and he listens and can almost understand me like a human. He wants to learn and starts to get bored if we don't do a drill for a while, so he encourages me to get out and work with him. We push each other to keep learning."
---
Call our active travel experts to book a beyond ordinary ski/board experience including flights, transfers, accommodation, lift passes and activities.
NZ Toll Free: 0800 555 035
Leave a reply