Nestled in the heart of the Canadian Rockies, Banff and Lake Louise emerge as a winter wonderland, offering an awe-inspiring experience for outdoor enthusiasts, especially skiers and snowboarders. Boasting three world-class ski resorts – Banff Ski Resort, Lake Louise Ski Resort, and Mt. Norquay Ski Resort – this region is an adventurer's dream during the snowy season
The Location
One of the most unique features of this ski destination is its location. Banff National Park is a UNESCO World Heritage Site. This is a place of breath-taking natural beauty. And home to iconic Canadian wildlife including deer, elk, moose, grizzly bears and wolves. Banff National Park is a scenic 90-minute drive from Calgary and easily accessible by airport shuttles, private transfers or your own vehicle. Located within the national park, the town of Banff and village of Lake Louise are full of history and character, and provide a great selection of accommodation options.
The Ski Resorts
Banff and Lake Louise offer three resorts: Banff Sunshine, Lake Louise Ski Resort and Mt. Norquay. These world-class resorts offer nearly 8,000 acres of skiable terrain, 334 runs and over 9 metres of snowfall every year. You can access the three resorts on one lift ticket. Therefore, you can check out the snow report in the morning then choose what resort to visit. The ticket also includes a shuttle to the resorts so you can just hop aboard one of the frequently scheduled ski shuttles directly to the resort of your choice.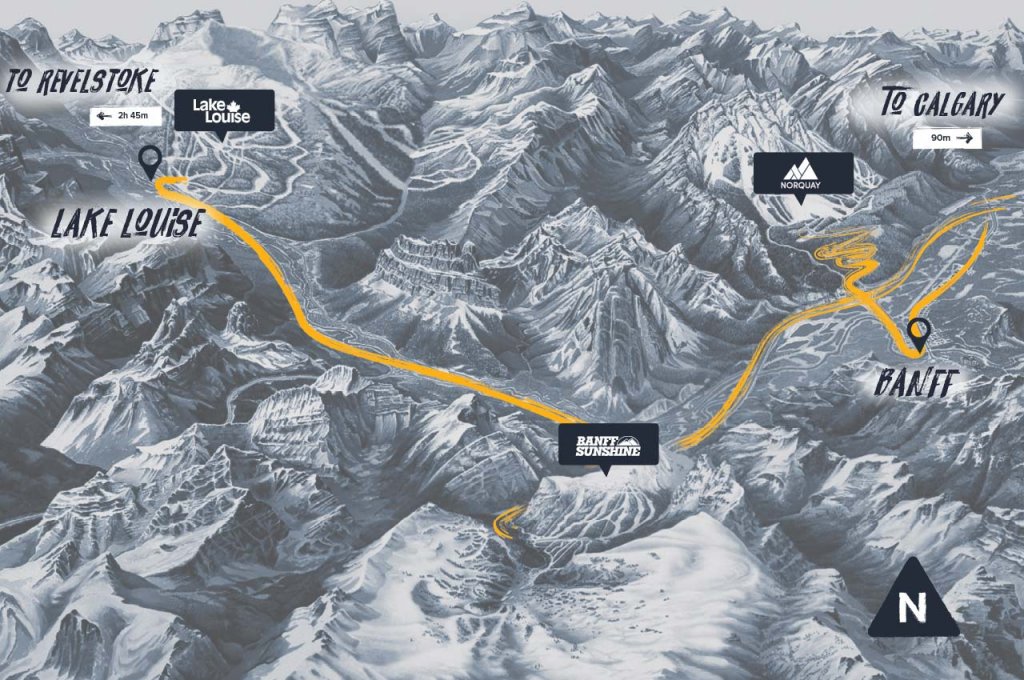 Banff Sunshine
Only 20 minutes from the town of Banff, incredible scenery awaits you at this resort. Banff Sunshine provides skiers and snowboarders with over 3,300 acres of skiable terrain and up to 9 metres of snow per season. What truly sets Banff Sunshine apart is its exclusive ski-in, ski-out accommodation, a unique feature that distinguishes it from other resorts in the region. Imagine the convenience of stepping out of your lodge and directly onto the pristine slopes, with breathtaking mountain views greeting you every morning.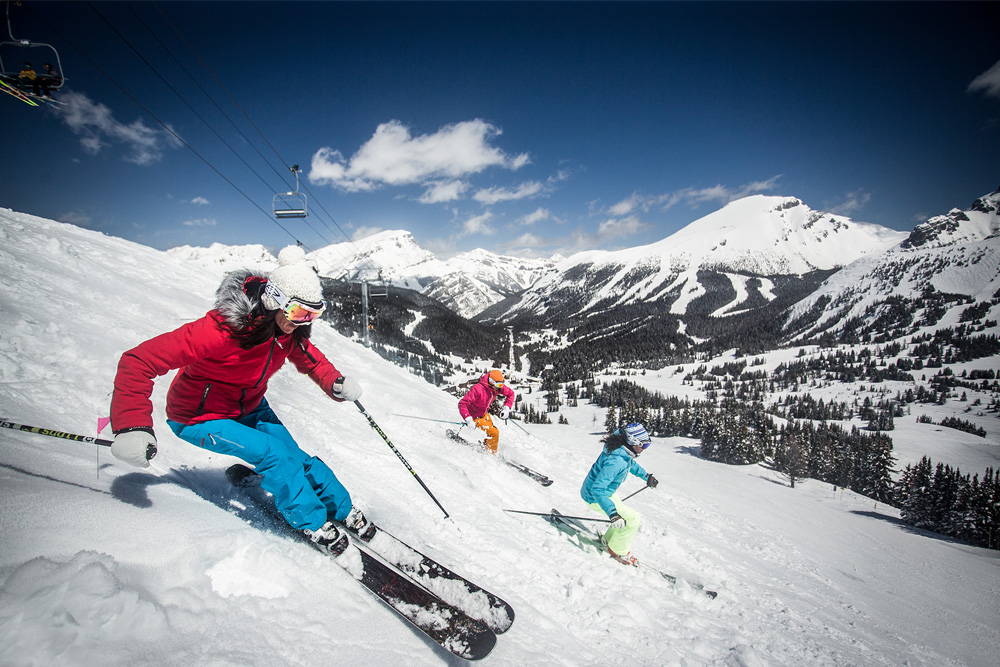 Lake Louise Ski Resort
Lake Louise Ski Resort has earned its reputation as a top-tier destination. Honored with a spot in the Top 3 World's Best Ski Resort at the 2017 World Ski Awards, this resort promises a world-class experience. Spanning an impressive 4,200 acres, the ski area ranks among North America's largest, boasting diverse terrain across four mountain faces. With an impressive selection of 145 runs, skiers of all levels will find their perfect match. Whether it's wide open bowls for the adventurous, long cruisers for those seeking a relaxed glide, or thrilling glades and chutes for the adrenaline seekers.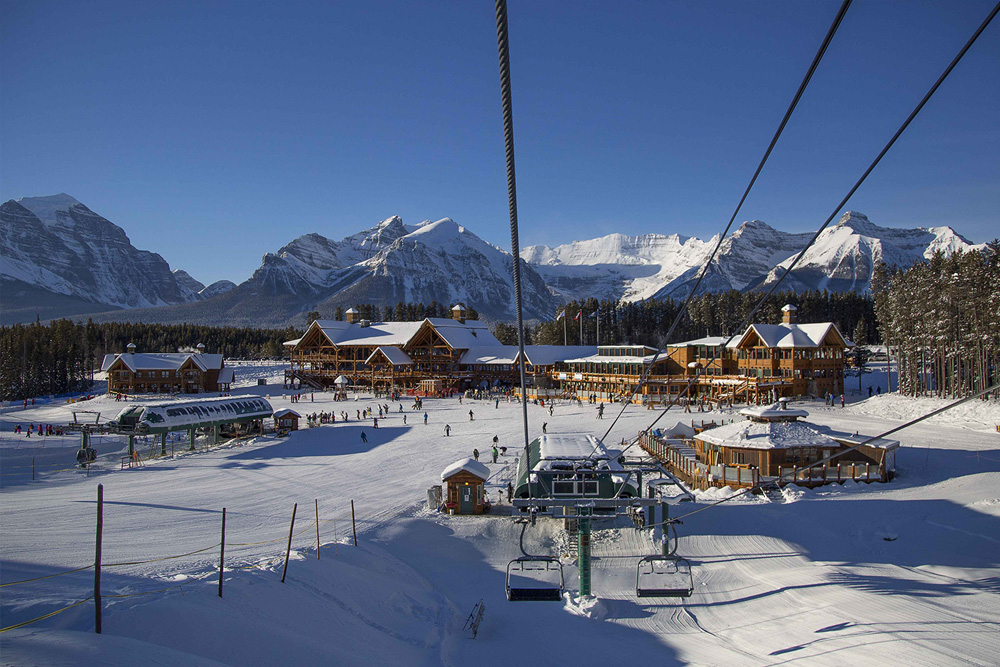 Mt Norquay
Mt. Norquay Ski Resort is the locals' best-kept secret! Offering an unparalleled ski experience, this hidden gem boasts pristine slopes and breathtaking views, making it a haven for skiers of all levels. Beginners can take advantage of the gentle learning slopes and expert instruction. While seasoned skiers can challenge themselves on diverse trails, including thrilling glades and chutes. A unique highlight that sets Mt. Norquay apart is its status as the only ski resort in the Canadian Rockies to offer night skiing. Imagine carving down the slopes under a starlit sky. Undoubtedly, an unforgettable and magical experience.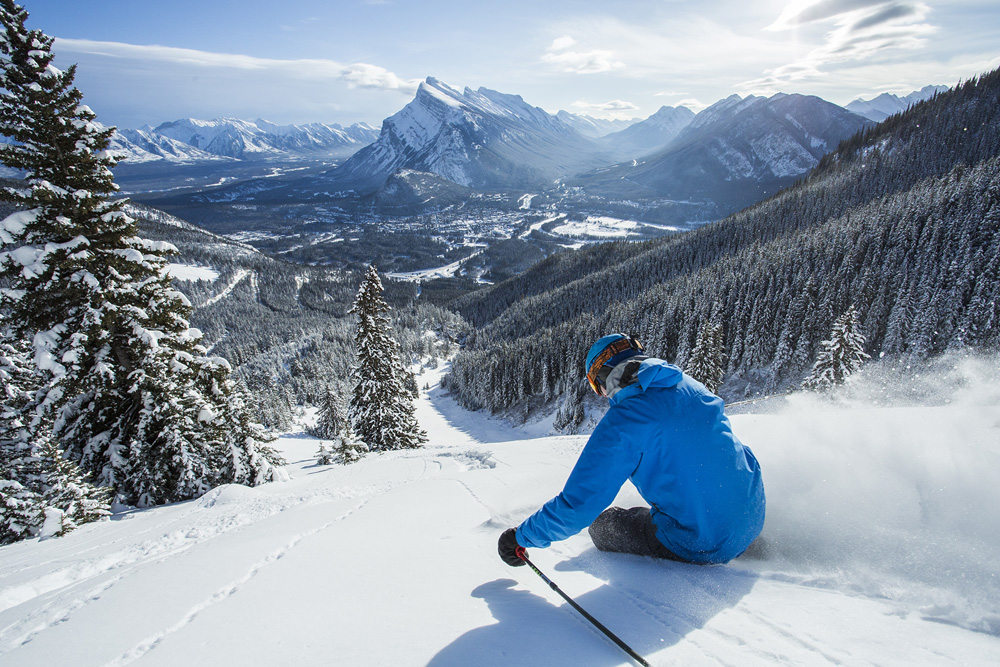 Beyond the ski slopes
There is a diverse range of activities beyond skiing. From families, to couples or groups of friends, there is so much to see and do to experience the best of Banff. Whether this be after a long day's skiing, or take time from the slopes, there is something for everyone.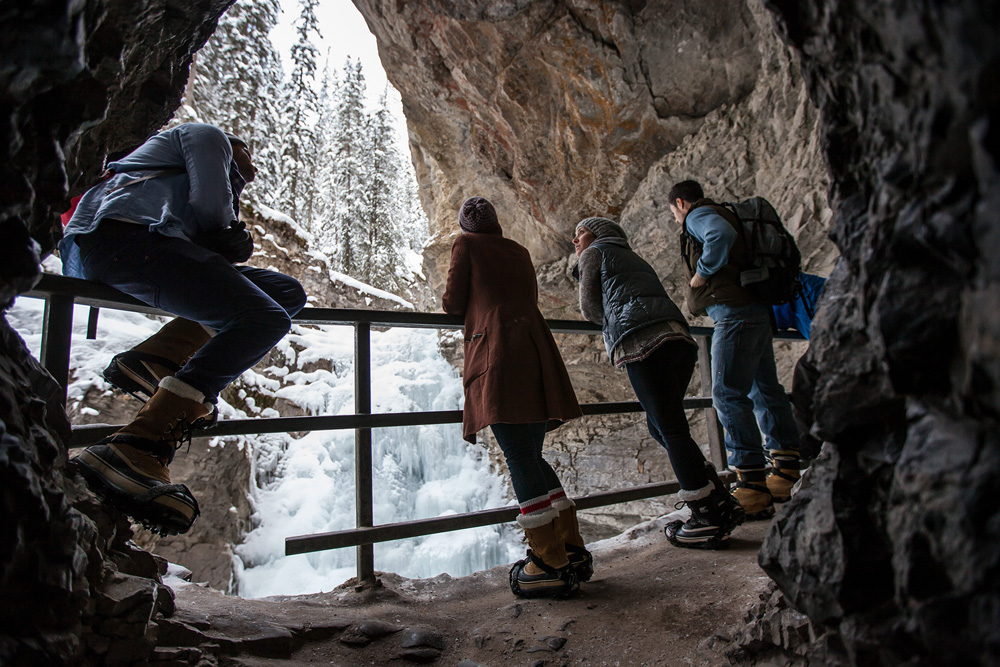 Frozen waterfall at Johnston Canyon
Outdoor Activities
Take a guided tour to Johnston's Canyon and enjoy the spectacular scenery as you discover limestone cliffs, icy rivers and frozen waterfalls. Go dog sledding, snowshoeing or grab some ice-skates and glide across the frozen lake of Lake Louise. Find some time for thrills with ice-climbing or tubing. Moreover, relax in the hot springs or, try your luck to spot some incredible wildlife.
Around Town
The alpine towns offer local culture, quaint shops, art galleries, and delicious dining experiences. Stroll through the picturesque streets and immerse yourself in the warm hospitality of the locals. Take advantage of the spa and wellness centers to warm up and restore those sore muscles.
Indoor Activities
Additionally, Banff also offers a bunch of indoor activities. This is great for those cold days or for a change of scenery. Enjoy Canadian five-pin bowling, or classic ten-pin. Try your hand at curling at the indoor ice rinks. Further, learn more about the area in the museums or enjoy a distillery tour.
Unquestionably, Banff is a haven for winter sports enthusiasts, offering a stunning natural beauty, world-class skiing, and heaps of winter activities. Whether you're an adrenaline-seeking skier or a nature lover, this Canadian winter paradise has something to offer to every traveler. Embrace the cold, embrace the adventure, and embark on an extraordinary winter journey in Banff.
To book a beyond ordinary ski/board experience to Banff, Canada including flights, transfers, accommodation, lift passes and activities call the Active Travel Experts at travel&co NZ Toll-Free: 0800 555 035 or click here to see our latest featured offers.
Banner image: © Dan Evans.
Leave a reply